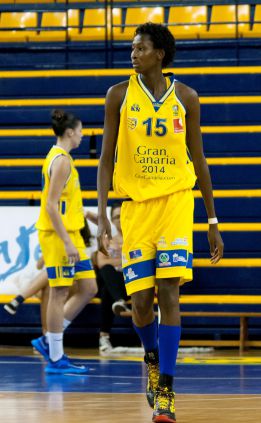 After the San Antonio Stars selected Astou Ndour in the second round of the 2014 WNBA Draft, many expected this would be a tactic their NBA counterparts, the San Antonio Spurs, made famous. The draft and stash.
The Stars didn't stash Ndour for long, as they have just announced they have signed the 6-6 Spanish center, who will be available this Friday when the Stars travel to Minnesota to play the Lynx.
Ndour just finished playing for Gran Canaria in Spain, where she averaged 17.3 points and 13.1 rebounds.
"Astou is a talent that, down the road, everyone will understand very quickly why we drafted her," Stars Head Coach and General Manager Dan Hughes said on draft night. "This is a supremely talented player with an awful lot of potential to be one of the best players in the world."
It may take some time to adapt to the WNBA for Ndour, but bringing her in before next season, getting her accustomed to the Stars' system and schemes, and having her work with the coaches, and players could be a great benefit for her.
Having a 6-6 center to throw at the Britney Griner's of the WNBA will be nice, but it may also be hard to get time in the rotation with Danielle Adams, Jayne Appel and Kayla Alexander all seeing time at center.
The Stars also announced that Heather Butler's seven-day contract has expired.
For more on Ndour, be sure to visit our player page at Stars Hoops.